About ARIEL
The Story
At four-thirty one Saturday afternoon the laws of physics as we know them underwent a change. Electronic devices, cars, industries stopped. The lights went out. Any technology more complicated than a lever or pulley simply wouldn't work. A new set of rules took its place—laws that could only be called magic. Ninety-nine percent of humanity has simply vanished. Cities lie abandoned. Supernatural creatures wander the silenced achievements of a halted civilization.
Pete Garey has survived the Change and its ensuing chaos. He wanders the southeastern United States, scavenging, lying low. Learning. One day he makes an unexpected friend: a smartassed unicorn with serious attitude. Pete names her Ariel and teaches her how to talk, how to read, and how to survive in a world in which a unicorn horn has become a highly prized commodity.
When they learn that there is a price quite literally on Ariel's head, the two unlikely companions set out from Atlanta to Manhattan to confront the sorcerer who wants her horn. And so begins a haunting, epic, and surprisingly funny journey through the remnants of a halted civilization in a desolated world.

Publication History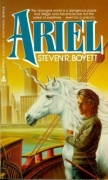 Steve Boyett began ARIEL during the summer after his freshman year in college as a writing major on a writing scholarship. He quit college after his sophomore year to finish the novel. He was nineteen. Eighteen months later ARIEL was finished, and a year after that it was sold to Ace Books.
At nearly 200,000 words, production costs would have made the submitted manuscript an expensive gamble on an unknown writer, so Boyett worked closely with editor Sue Stone to remove 180 pages' worth of material. Far from being upset at the cuts, Boyett has expressed his gratitude for them, saying that the book "really was too damned long."
Ace published ARIEL as their lead fantasy title in 1983. Spurred by positive reviews, a strong Barclay Shaw cover, and a burgeoning popular interest in postapocalyptic fiction and in unicorns, the novel went through four printings in its first few months, earning a notable mention in the New York Times Book Review and appearing on several chain paperback-bestseller lists.
ARIEL eventually went out of print and was not available until 1999, when Scorpius Digital Books launched their imprint with a reissue of the novel featuring restored scenes and an author's afterword and notes. Cover art by Rob Alexander was a highlight as well. This digital edition of ARIEL remained available for several years and was the lead seller for the Scorpius line.
In late 2008 Boyett completed work on Elegy Beach, a sequel to ARIEL begun in 2004 (and delayed, according to Boyett, due to the unexpected global success of his DJ podcast Podrunner). ARIEL's original publisher, Ace Books, snapped it up — along with the reprint rights to ARIEL.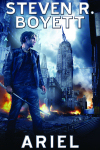 For the 2009 edition, Boyett and his new editor, Anne Sowards, seized the opportunity to correct errors; update some of the book's more glaring anachronisms (twenty-six years having passed between ARIEL's original publication and this one); and utilize the Scorpius digital edition's restored material and update its afterword and notes, rendering this printing, in Boyett's view, the canonical edition.
Cover art for this Ace reprint was a full wraparound digital illustration by artist Steve Stone, who also provided the wraparound cover illustration for ELEGY BEACH. Boyett has commented that ARIEL is "three for three" on outstanding cover art.
Ace also released ARIEL as an unabridged audiobook produced by Grammy- and Obie-winner Deyan Audio and narrated by award-winning actor Ramon De Ocampo. Boyett enjoyed an unusual level of interaction with the production (as well as with the audiobook production of ELEGY BEACH), and he has expressed his delight with the finished work.
About the Author

Steven R. Boyett has written novels, short stories, comic books, feature films, essays, and reviews. As a DJ he has played clubs in Los Angeles, San Francisco, Las Vegas, and Reno, as well as at Burning Man. He produces three of the world's most popular music podcasts (Podrunner, Podrunner: Intervals, and Groovelectric), and was among the first people to make a living in that medium.
As owner of Sneaker Press Boyett published poetry chapbooks by Carrie Etter and the late Nancy Lambert. He has also been a martial-arts instructor, paper marbler, advertising copywriter, editor, typesetter, and proofreader. He designs websites, plays the didgeridoo, and composes electronic music. He recently moved from Los Angeles to the San Francisco Bay area.
Reviews for the New Edition of ARIEL

Part post-apocalypse, part road-trip, part sword-and-sorcery: ARIEL is one of my favorite adventure novels of all time.
—Cory Doctorow, author of LITTLE BROTHER, co-editor of BoingBoing

ARIEL sparkles without need of dusting—most great books do stand up to the test of time. Post-apocalyptic fantasies are rare and wonderful, and none more wonderful than this. Wish I could have written this well when I was nineteen.
—Patricia Briggs, #1 New York Times bestselling author of HUNTING GROUND
SEQUEL TO ARIEL
BOOK SITES
BLOG
LINKS